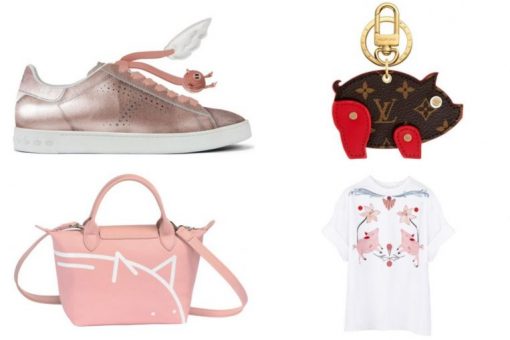 The luxury fashion brands are going the whole hog to capture the lucrative Chinese market. It is, after all, the Year of the Pig from Feb 5.PHOTOS: TOD, LOUIS VUITTON, CHLOE, LONGCHAMP
---
To tap the Asian market, high-end brands are releasing collections to tie in with the Year of the Pig
---
---
(c) 2019 Singapore Press Holdings Limited
To tap the Asian market, high-end brands are releasing collections to tie in with the Year of the Pig For its latest capsule collection, Italian luxury brand Gucci has looked to the classic story of the Three Little Pigs for inspiration.
Over at French fashion label Louis Vuitton, one can find accessories such as a pig-shaped key holder and pink scarf with an abstract piglet print.
So what's the deal with the piginspired fashion?
The luxury fashion brands are going the whole hog to capture the lucrative Chinese market. It is, after all, the
Year of the Pig from Feb 5.
According to a 2017 study done by global management consultancy Bain & Company, Chinese consumers spend about 600 billion yuan (S$120.7 billion) on luxury goods annually – nearly a third of the global market share.
In the last few years, more international luxury labels have released Chinese New Year collections associated with zodiac animals such as the dog and the rooster.
Retail experts say global brands are localising certain collections to appeal to the large customer base in China and grow their market share there.
Adjunct Associate Professor Lynda Wee, from Nanyang Technological University's Nanyang Business School, says fashion labels cannot ignore the Chinese market due to its high revenue contribution.
In addition, other Asian countries, including Singapore, also celebrate Chinese New Year and luxury brand consumers may buy into these special collections, she adds.
"Chinese New Year is a huge celebration for the Chinese, and Asian countries such as Cambodia celebrate it too. These should be major market contributors in terms of sales revenue for the brands' Asian segments."
So it makes sense for the brands to curate festive merchandise for customers to "complete their lifestyle needs", she says.
Mr Amos Tan, a senior lecturer at Singapore Polytechnic's School of Business, agrees that China is "where the money is".
"Without a doubt, China is where the Asian economy is the strongest. If a brand can gain market share there, then they could definitely rejuvenate their growth."
He adds that while luxury brands could rely on their international appeal in the past, increased competition for market share in China in recent years means that brands have to take a different approach.
"The market is so saturated now. So the strategy is to localise products so that customers feel the brand is relevant to them and use their own culture to appeal to them because people want this deeper connection."
The Straits Times checks out some pig-inspired accessories and clothing from different luxury fashion brands.
Porcine chic
1. Women's ace sneaker with three little pigs, $1,080, from Gucci
2. Pig bag charm and key holder, $660, from Louis Vuitton
3. Mini bucket bag in natural white lambskin and smooth calfskin, $2,840, from Chloe
4. Limited-edition sneakers, $1,150, from Tods
5. Pig silk square, $175, from Coach
6. Pure silk scarf with pig print, $550, from Ferragamo
7. Silk square with pink piglet design, $665, from Louis Vuitton
8. Metropolis crossbody bag, $745, from Furla
9. T-shirt with pig motif, $840, from Chloe
10. Mr Bags x Longchamp Le Pliage Cuir top handle bag, $790, from Longchamp
Women's ace sneaker with three little pigs, $1,080, from Gucci
© 2019 Factiva, Inc. All rights reserved.