Map Unavailable
Date/Time
Date(s) - 17/06/2015 - 17/12/2025
All Day
Categories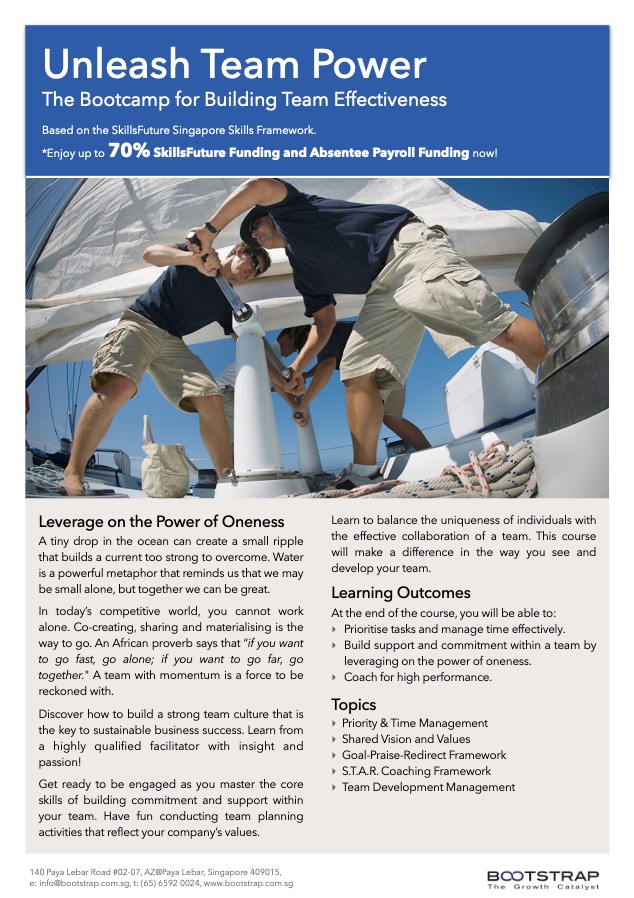 UNLEASH TEAM POWER – The Boot Camp For Building Team Culture
SYNOPSIS
A tiny drop in the ocean can create a small ripple that builds a current too strong to overcome. Water is a powerful metaphor that reminds us that alone we may be small, but together we can be great.
In today's competitive world, you cannot work alone. Co-creating, sharing and materialising is the way to go. An African proverb says that if you want to go fast, go alone. If you want to go far, go together. A team with momentum is a force to be reckoned with.
Successful leaders build teams that bring companies further and give them unlimited power to grow. In just 2 days, explore how to build a strong team culture with shared vision and goals. Unleash the Power of Oneness today!
At the end of this 2-day course, you will be able to:
Build Teams with Unlimited Growing Power


Master the Secrets of Harnessing Team Power
Registration