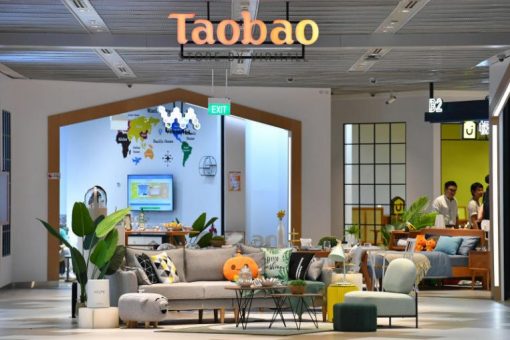 The latest online retailer to venture offline here is Chinese e-commerce platform Taobao, which opened its first South-east Asia store in Funan mall on Sept 4, 2019.ST PHOTO: LIM YAOHUI
---
---
SINGAPORE – In the face of competition from e-commerce in recent years, many retailers have gone online to reach more consumers.
But a handful of online brands are going in the other direction, opening brick-and-mortar stores to showcase their products.
It started with the fashion blogshops and indie fashion labels. Then, the lifestyle and home furnishing brands followed suit.
The latest online retailer to venture offline here is Chinese e-commerce platform Taobao, which opened its first South-east Asia store in Funan mall on Wednesday (Sept 4).
At least four home-grown lifestyle and furniture brands that were born online have also gone physical.
Homeware retailer Iuiga, known for their minimalist designs and affordable prices, started with a website and mobile app in August 2017, but now has five physical stores, including two new ones in Funan and Paya Lebar Quarter, the two newest malls here.
The same month, the brand also had a pop-up store at SingPost Centre in Paya Lebar. It was meant to be a short-term stint but a spokesperson for Iuiga tells The Straits Times that the brand extended its lease because of overwhelming reception. The store is still in business today.
One of the biggest draws of having a physical store is allowing consumers to ascertain product quality before making a purchase – particularly when it comes to more expensive items.
Iuiga's flagship store at Tampines 1 stocks a wide range of furniture pieces, with prices from $129.90 for a beanbag to $1,899 for a bed frame.
Iuiga's digital strategist, Ms Poh Wey Lynn, says: "The stores are showrooms for our products, you can touch and feel each item. This is very important as it's hard for us to convey the quality of the goods via a screen."
The retailer will open another pop-up store later this month (September) in Wheelock Place. It is set to run for six months and may be extended depending on how well it does. Iuiga aims to have at least 10 stores by year-end.
Ms Poh says 80 per cent of Iuiga's current sales comes from its retail outlets. Prices are the same offline and online.
While Iuiga declines to reveal its earnings in past years, it projects that its revenue will hit $10 million this year.
But Ms Poh adds that Iuiga is still primarily an e-commerce brand. To make a purchase at the physical store, customers have to first sign up for an online account.
China's Taobao says its Funan store aims to introduce quality Chinese-made products to Singapore consumers. It also wants to shake up the traditional way of buying furniture.
Called Taobao Store by Virmall, it has a complimentary VR service that lets shoppers visualise how a piece of Taobao furniture will look like in their homes, using digital mock-ups.
"Typically, shoppers have to manually measure the room and the furniture, and imagine what a piece will look like in their heads. They can't see different colour combinations and they are never really sure if it goes well in the space," says Mr Sky Chen, Virmall's general manager, who heads the local firm that helps to curate and bring in products from merchants on Taobao.
Another homegrown furniture brand that has set up shop is Castlery, which started online in 2013. It now has two showrooms in Jit Poh Building at Keppel Road and the Grandstand mall at Turf Club Road. A Castlery spokeperson says physical retail accounts for 40 per cent of total sales, with the rest coming from online.
Multi-label lifestyle retailer Naiise, which started online in 2013, now has three stores, including a 9,500 sq ft shop in Jewel Changi Airport.
Homegrown furniture retailer HipVan, which also started online in 2013, opened an 10,600 sq ft flagship store at The Cathay in Handy Road in 2017. The store closed earlier this year when the lease ended and its spokesman said "the initial success drove us to look for a bigger space".
While having a physical store may strengthen a brand's presence, experts caution that online success may not translate offline.
"(Running a physical store) is different from managing an online store. There is a different set of critical success factors such as location, merchandising and visual display, which these online retailers may not be ready for," says Dr Lynda Wee, adjunct associate professor from the marketing division at Nanyang Technological University's Nanyang Business School.
"With limited (floor) space, they need to curate merchandise, whereas online, there's no space restrictions to showcase merchandise and (shoppers can use the) search function," she adds.
SPH Digital News / Copyright © 2020 Singapore Press Holdings Ltd. Co. Regn. No. 198402868E. All rights reserved
Read More: https://www.straitstimes.com/lifestyle/online-retailers-expand-into-physical-stores-to-draw-more-shoppers