VIEWS (/NEWS/VIEWS)
---
Physical + online presence = future of retail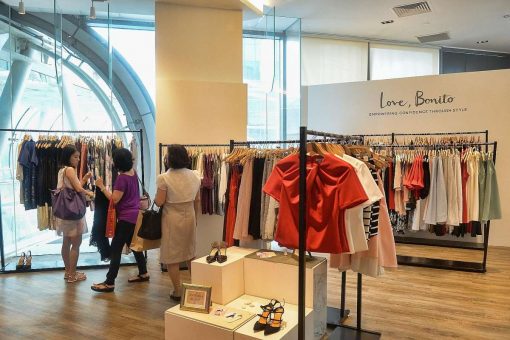 Future of retail may lie in merging brick-and-mortar stores with e-commerce
---
Foo Jie Ying (/author/foo-jie-ying)
Dec 20, 2016 06:00 am
(/author/foo-jie-ying)
---
It has been a tough year for shops.
Competition from e-commerce, weak consumer spending and high business costs have hit them hard.
Retail sales, excluding sales of motor vehicles, have fallen, with the latest government data estimating a fall of 0.3 per cent in October over the same period last year.
FEARS
Singapore's oldest department store, John Little, will shut its last outlet by year-end after 174 years in operation, sparking fears that brick-and-mortar stores are becoming irrelevant to a growing group of online shoppers.
But against this gloomy backdrop, there is a twist to this tale of struggling retailers. Local online stores such as Beyond The Vines and Love, Bonito are bucking the trend.
Taking advantage of softer rents, these clothing brands have invaded the heart of town with physical boutiques to amp up their presence.
It seems to be working.
The Love, Bonito pop-up store at 313@Somerset (mailto:313@Somerset) was bustling with shoppers when The New Paper visited recently.
Globally known names such as US lingerie brand Victoria's Secret, Japanese clothing company Uniqlo, and French beauty emporium Sephora opened agship stores here this year.
They have something in common – a strong online presence and physical shops that make shopping an emotional experience. This may be where the future of retail lies: A convergence of online and physical stores to provide a seamless shopping experience.
Dr Lynda Wee, an adjunct associate professor in retail at Nanyang Technological University's business school, said: "The brand experience forges an emotional connection and promotes a sense of belonging. It also provides the option to shop online or oine."
TRANSFORM
The Government recognises this. In September, it announced a road map to help retail establishments here transform their businesses to stay competitive.
This includes joining e-commerce platforms to reach out to more customers here and overseas, and engaging shoppers through mobile applications.
For compulsive online shoppers like myself, this is good news.
I can now make better decisions by heading for the brick-and-mortar store to try on, feel or smell an item I may have spotted online, or even ask the sales assistants for advice.
It is way more engaging than simply scrolling, clicking and enlarging images on a screen.
I no longer have to contend with disappointment from an item that looks or feels different from what is described online.
And of course, if you go to the shop, there is the bonus of instant gratication, instead of having to wait for the item to be delivered.
Singapore Polytechnic's senior retail lecturer Sarah Lim said: "Not everyone enjoys online shopping. There are people who still want the physical experience."
Having both an oine and online shop front will also help to increase a brand's customer base, she said.
What the brick-and-mortar shops need to do is to offer an integrated retail experience to remind customers of the joys of shopping again.
Physical shops with no online presence should consider having one as it would allow consumers to enjoy the physical experience but have the option of buying online, said Dr Wee.
Similarly, online retailers should have physical shops to give online shoppers the option of trying on merchandise. Love, Bonito founder Rachel Lim agrees.
"The challenge would be to merge the online and oine experience and let our new customers know we're an online brand – and direct them to shop there as well," she said.
It could be by blurring the lines between online and oine shopping that retailers will be able to keep their tills ringing beyond the Black Friday sales.
---
Contact TNP (/contact-us) | Subscribe to TNP (https://www.sphsubscription.com.sg/eshop/)
| Privacy Statement (http://sph.com.sg/legal/sph_privacy.html) | Data Protection Policy (http://sph.com.sg/legal/pdpa.html)
Member Terms & Conditions (http://sph.com.sg/legal/member_conditions.html) | Website Terms & Conditions (http://sph.com.sg/legal/website_tnc.html)
SPH Digital News Copyright © 2018 Singapore Press Holdings Ltd. Co. Regn No. 198402868E
https://www.tnp.sg/news/views/physical-online-presence-future-retail