THE STRAITS TIMES
---
Express salons at the cutting edge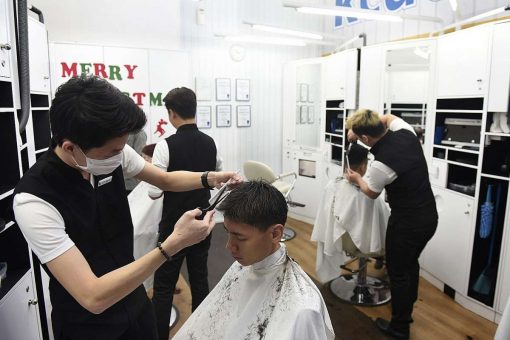 ---
The market for hair salons offering no-frills fast cuts at affordable prices is expanding, with three major chains vying for a share of the growing pie. Melissa Heng reports
---
PUBLISHED: DEC 29, 2016, 5:00 AM SGT
Melissa Heng (mailto:melheng@sph.com.sg)
---
Every day, almost 3,000 people get their hair cut at express salon Kcuts. This is a 10-per-cent rise in patronage from a year ago. The Singapore chain with Korean influences, which launched in 2013, has 30 outlets islandwide and more are in the pipeline. The swift expansion and popularity of Kcuts illustrate a larger trend of fast cuts gaining fans here.
The concept of express salons was introduced to Singapore in the early noughties.
QB House, which originated in Japan in 1995, opened in Singapore in 2002 and has 35 outlets across Singapore.
Ms Matsuo Kaori, managing director (Overseas Business Division) of QB Net Co in Japan, says that almost 80,000 customers visit QB House in Singapore every month.
A standard haircut at QB House costs $12.
"If I go to a salon, I have to wait very long for my turn because people are dyeing or perming their hair. But here, it is always very fast and I still look stylish." MS MANDY QUEK, 50, who goes to Kcuts at Nex
The company also decided to diversify its portfolio to cater to a wider variety of customers by opening QB House Kids in 2013 and QB House Premium in 2014.
A cut at QB House Kids costs $22. Ms Kaori says the higher price is because the service caters to infants as young as a few months old and it takes stylists a longer time to gently cut the hair of a squirming child.
A cut at QB House Premium costs $15 and includes styling with hair wax.
A similar chain, EC House, founded by Japanese entrepreneur Koki Matsuda, was launched in Singapore in 2003. The 54-year-old Singapore permanent resident says people like express cuts because of the time it saves.
He says: "Singaporeans have tight and busy schedules and may not have time to go for a haircut in salons, as that will take a longer time.
"So they appreciate quick, fuss- free and professional haircuts at affordable prices."
Today, EC House has 33 stores across the island in malls such as Junction 8, Plaza Singapura, Westgate and Tampines Mall.
Each outlet has about 120 customers a day on weekdays and almost 150 a day during weekends. A haircut at EC House costs $12. Those aged above 65 pay $10.
A majority of the customers at these salons are men who appreciate the fuss-free service.
A discernible feature of the quick-cuts chain is uniformity and cleanliness. Staff wear clean, sharp uniforms, sweep the floors after every cut and use a new comb for every customer.
Kcuts, QB House and EC House all employ experienced stylists and each company puts its staff through regular training. Staff attend training updates at least four times a year to keep up with new hairstyle trends and to finetune technical skills.
Ms Kaori says staff at QB House are also trained in soft skills such as how to manage customer expectations and how to always keep a smile on. Service etiquette such as greeting customers when they enter the store is also emphasised.
Saving time is another key benefit. By cutting out other services, such as wash and blow, perms and colouring, these no-frills salons manage to keep a high turnover of customers and limit each cut to about 10 minutes.
Asked about the benefits of having just one service, Ms Kaori says: "It allows our stylists to specialise particularly on haircutting skills, hygiene and service standards.
"Our mission is to provide the value of time, hence we do not perform services such as shampooing, colouring or perming."
Civil servant Alvin Leow, 33, a regular patron of QB House at Parkway Parade mall, says he likes cutting his hair at the outlet because the service is hassle-free and value for money.
"I live nearby so it's easy to come here. I don't need them to wash my hair anyway, I can go home and wash it myself."
Software engineering manager Steve Tan, 30, who has been going to EC House at Anchorpoint for the last four years, says it is not just about the cheaper price.
"Honestly, I tried EC House at the start because of the price, but I kept going there because of the quality."
The father of one says he also likes that the salon "vacuums your hair".
He adds: "Short, loose hair get trapped in one's clothes and become like little needles poking at one's neck. So the vacuuming is a practical service."
Masseuse Mandy Quek, 50, says she likes going to the Kcuts outlet at Nex because she likes how the stylist there shapes her hair.
"If I go to a salon, I have to wait very long for my turn because people are dyeing or perming their hair. But here, it is always very fast and I still look stylish."
Retail experts say express-cuts salons have empowered customers and given them more choices based on their needs.
Dr Lynda Wee, adjunct associate professor of marketing and international business at Nanyang Business School, Nanyang Technological University, says: "Now customers can decide if they like basic trim-and-go services or want fully loaded services from a regular salon."
She says those who prefer a quick cut choose the service because it helps them save time and money.
Since the salons are branded, it becomes easier for customers to identify and stick with those which consistently deliver, she adds.
Asked if the popularity of such services will affect salons that offer a full list of services or smaller neighbourhood mom-and-pop stores, Dr Wee says: "As mom-and-pop shops offer different levels of solutions, quick cuts do not affect full-service salons.
"Full-service salons are about transformation and pampering – they have more consultative services and forge emotional bonds and build trust."
Owner of Aoska Unisex Hair Styling salon, Ms Helen Ee, 46, says her salons have been around for more than 10 years and have always offered hair cuts costing between $5 and $8.
The low prices were not a reaction to express-cuts salons. "We've always charged these prices," she says.
She has three outlets located at Housing Board void decks in Whampoa, Yishun and Ang Mo Kio. Other services they provide include colouring, which starts at $25, and perming, which starts at $35.
Ms Ee says: "Times are hard now because of higher rental and labour costs." She declines to reveal revenue figures, but says her salons are still in the black as a core of loyal customers regularly return because of "trust built over the years".
Although express-cuts salons can be found in almost every mall in Singapore, it does not appear that the expansion will slow down any time soon. Mr Samuel Pei, 35, co-founder of Kcuts, says the brand will set up shop at three more locations next year.
"Quick cuts are definitely on trend. People are hungry for time, especially men. Getting their hair cut is a chore for them and they never make appointments.
"Our Asian context – with its fast pace of life and people looking for affordable services – allows the express-cut system to thrive."
Missing out on our exclusive articles?
Get two weeks of free access to The Straits Times and experience the best work from the ST newsroom. No credit card required.
Get 2-Week Free Access
---
Terms & Conditions | Data Protection Policy | Need help? Reach us here. | Advertise with us