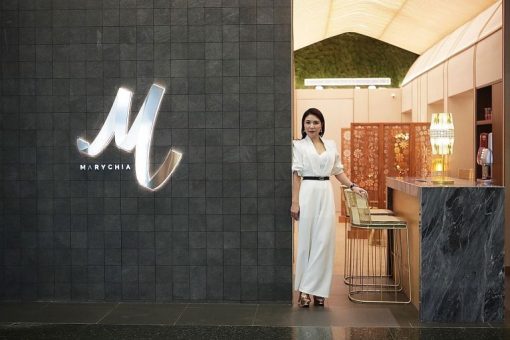 Mary Chia Holdings chief executive Wendy Ho has been running the beauty and slimming group since 2009.ST PHOTO: GIN TAY

---
Rebranding comes after three years of restructuring; CEO eyes global market next
---
---
Mary Chia Holdings chief executive Wendy Ho said she did not pay herself a salary for two years to help the firm pull through a "challenging period".
Rising costs from manpower and rentals were putting a huge strain on the company's financials, Ms Ho told The Straits Times last month.
The home-grown beauty and wellness group has been in the red since 2015, with losses rising to $6.1 million in 2017 and $5.9 million last year.
It also ran into legal woes when a subsidiary was ordered to pay more than $580,000 in damages and costs to Japanese company Slim Beauty House in 2017 after a joint venture went sour.
"As CEO of the company, my most important responsibility was to go through the tough period," said Ms Ho, 48, who has been running Mary Chia Holdings since 2009.
"I learnt from this whole incident how the market changes very fast, especially in terms of costs going up."
Two years ago, the firm was bought out by Japanese restaurant group Suki Sushi, which is controlled by Ms Ho's husband Jason Lee. Mr Lee is a controlling shareholder in Mary Chia.
Things are finally looking up, as the Catalist-listed company narrowed net losses to $2.6 million in the last financial year.
Ms Ho said it has streamlined operations, which included closing three outlets, selling a hotel and reducing headcount from about 120 to 100.
Making inroads into Indonesia
Mary Chia Holdings has made its first foray into the Indonesian market with plans to invest at least US$245,000 (S$333,000) in a new unit it has set up with a partner.
The firm said in a Singapore Exchange filing last month that the unit, PT Mary Chia Sindo, is looking at setting up a flagship store and a chain of shops throughout the country to retail its own range of skincare products, health supplements and services.
This is the firm's second overseas market for its Mary Chia brand; it has had a presence in Kuala Lumpur and Johor for over a decade with five outlets and one aesthetic clinic.
Mary Chia chief executive Wendy Ho told The Straits Times that Indonesia is the natural next "strategic step" as it is the largest and most populous country in South-east Asia.
"I believe our home-grown Singaporean brand has some standing among the Indonesian population," she said.
"The challenge for us expanding into Indonesia is to find the right know-how and entry points to harness and service a widely diverse range of customers in Indonesia."
Mary Chia owns 98 per cent of the new subsidiary, with the remaining 2 per cent owned by Indonesian businessman Pak Tanto Adi Pramoko, who is also acting as a senior adviser for the Indonesian market to Mary Chia.
The firm is also exploring expanding in Malaysia, where sales rose to about $1.5 million in the last financial year, up 11.8 per cent from the previous 12 months.
Ms Ho said there may be challenges such as rising labour costs and in sourcing for skilled therapists.
"There is great potential and room for growth in Malaysia. But we need to take calculated and calibrated moves towards expansion," she added.
As well as investing more in equipment, training and product development, it started a new medical aesthetics brand – Dr Scinn Aesthetics – last year.
A rebranding exercise was launched this year for the flagship service brand Mary Chia – its first major makeover since it was founded 40 years ago.
It has spent $1.6 million on the effort as at March this year, including hiring consultants, redesigning staff uniforms, training staff in service excellence and running advertisements, said Ms Ho.
Three of its five outlets have also been renovated. The flagship salon in Jurong Point, for instance, is like a homey lounge lit in warm, bright tones, while the one in Goldhill Centre – the first Mary Chia beauty centre opened in 1989 – has a "healthy professional and zen" look.
It is a far cry from the early years of the business, when customers received facials on rows of couches with curtains drawn between them, said Ms Ho.
She expects the whole rebranding exercise to cost a few million dollars and serve as the culmination of three years of restructuring.
"It is worth it going through the past few years. Especially when I see the end results, and we receive positive feedback from customers, the public or friends… We are seeing the rainbow soon," she said.
Ms Ho then hopes to take Mary Chia international.
It has just ventured into Indonesia and is exploring expanding in Malaysia, where it has five outlets and one aesthetic clinic.
The firm also set up an office in Taiwan last year for its Organica International Holdings subsidiary, which sells nutrition and skincare products tailored to Asians.
Locally, manpower is going to become a challenge again given that the proportion of foreigners on work permits or S Passes that service sector firms can employ will be cut from 40 per cent to 35 per cent over the next two years.
But Ms Ho hopes that the rebranding will attract staff who like to work in a more modern environment.
The firm also keeps staff engaged by training them to operate new treatment devices and hopes to work with schools to offer training for their new graduates in order to build up the talent pipeline.
Ms Ho attends industry conferences overseas every two or three months to learn about the latest trends and technology, and meets staff once a month to get feedback.
Her mother Mary Chia – who started the business making house calls and grew it to become the first homegrown company in the beauty sector to list here in 2009 – still drops by the outlets to encourage staff even after stepping down as chairman in 2017.
When asked how Madam Chia, who is in her 70s, felt after seeing the company's new image, Ms Ho said that she saw her mother in a video of the Jurong Point outlet's re-opening, after the renovation, looking around and taking it all in.
"In my heart, I know she is happy with it," she said.
Customers have also been supportive, she said. About 70 per cent of Mary Chia customers are aged 40 and up – including one in her 80s who has been returning for two decades.
Besides locals, some also come from China, Indonesia, Europe and the Middle East.
To continue to attract young people, the company introduced WhatsApp bookings last year and has an inhouse digital specialist to manage its social media platforms.
Ms Ho also gets feedback from her three children, aged 17 to 23, on trends and services millennials want to see.
While competition in the beauty industry is intense, retail experts said, technology is one way companies can engage customers better.
Mr Samuel Tan, course chair for the diploma in retail management programme at Temasek Polytechnic's School of Business, said that with disruption from online platforms and e-businesses, consumers have more information and options available. For instance, there are online tutorials for self-help beauty care at home.
But high-end equipment and personalised service are things people still patronise beauty and slimming centres for, he said, adding: "Digitalisation for effective online presence supported by personalised customer service is critical for sustaining a beauty business."
Dr Lynda Wee, adjunct associate professor from the marketing division at Nanyang Technological University's Nanyang Business School, also suggested companies look into more high-tech services, such as booking apps and visualising the potential end-state after treatment, to increase demand.
Ms Ho acknowledged the challenge advancing technology poses in making it easier for people to get their hands on their own beauty products and equipment.
She said Mary Chia is focusing on developing more effective products with Korean laboratories and ensuring its staff are trained so they can offer customised and safe treatments to customers.
This approach was a draw for customer Jacqueline Poernomo, 23, who said she chanced upon Mary Chia two months ago and felt the consultants seem very knowledgeable.
"At my age, I feel that it is important to take ample care of my appearance. It helps me feel good both inside and out," she said.
Correction note: An earlier version of this article said Mr Jason Lee has a non-executive role in Mary Chia. The company has clarified that Mr Lee is a controlling shareholder in the group. The article has been amended to reflect that.
SPH Digital News / Copyright © 2020 Singapore Press Holdings Ltd. Co. Regn. No. 198402868E. All rights reserved
Read More: https://www.straitstimes.com/business/companies-markets/wellness-firm-mary-chia-gets-a-facelift