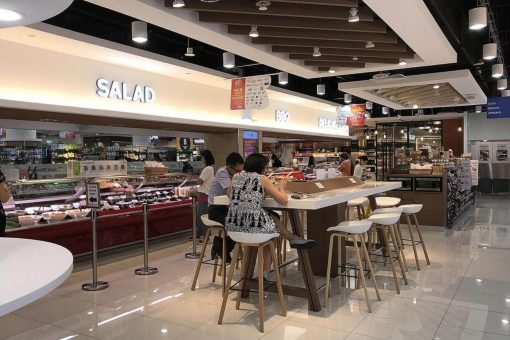 The outlet also has a dining area that seats 12 and is equipped with power sockets, USB points and wireless phone chargers. ST PHOTO: BRYNA SINGH
---
Cold Storage at Fusionopolis is a fully self-checkout store that boasts a wide range of ready-to-eat meals, a wine-tasting bar, a dining area and two meeting rooms that customers can book.
It is 1pm on a sweltering Thursday, but the heat does not faze digital marketeer Tan Chun Hao, 26, who is having lunch with three colleagues in a private air-conditioned room.
As they chat over soft music playing from one of their mobile phones, they sip wine, enjoy charcuterie and cheese, and dig into roasted meats.
The scene may resemble dining in a fancy restaurant, but the group is, in fact, having lunch at a supermarket – the new Cold Storage outlet at Fusionopolis in Buona Vista.
The fully self-checkout store, which opened in February, features an expanded range of ready-to-eat meals, a wine-tasting bar, a dining area and two meeting rooms.
It was in one of these meeting rooms, called The Den, that Mr Tan and his colleagues were lunching.
The cosy space can accommodate up to six people. The other meeting room, called The Thinking Room, can seat about 10.
Advance bookings for the rooms are required via the Cold Storage website. Users can book a room for a minimum of one hour. Usage of the rooms for up to four hours is free of charge, but durations exceeding this require a minimum spend.
Mr Tan and his colleagues work in Pasir Panjang, but took a 10-minute train ride to Fusionopolis, as he had heard about the new concept from his cousin, who works in the area.
"We spent about $90 on lunch, which I think is very reasonable for the substantial meal we had," he says.
"We enjoyed ourselves and found the concept of dining in a supermarket interesting. We'll be back."
Ms Hannah Hong, marketing director of Cold Storage, says the Fusionopolis store aims to provide a "calm and therapeutic" experience for shoppers.
"We want them to find coming to this supermarket inspirational, where grocery shopping is enjoyable and not a chore," she says.
The dining area and wine-tasting bar are open to all during the store's operating hours.
This means a shopper can buy food and beverage items from the supermarket and dine in-store.
The dining area, which seats 12, is equipped with power sockets, USB points and wireless phone chargers.
Ms Hong says: "These comfortable spaces allow for bonding, learning or just sitting and watching people go by."
The Fusionopolis store has an artisanal sandwich bar, selfcustomisable Japanese bento meals, as well as a charcuterie and cheese station, where shoppers can either build their own boards or choose from pre-made boards.
These options are not available at other Cold Storage outlets.
There are more than 40 Cold Storage supermarkets in Singapore, run by retail group Dairy Farm International Holdings.
The Fusionopolis store's create-your-own salad bar also features a greater variety of proteins, toppings and dressings than at other stores.
To aid shoppers in their food and wine pairings, the store also makes use of what Ms Hong describes as "silent salesmen" – signs in the wine section that tell shoppers which wines go well with which proteins and cold cuts.
Customers can also consult a wine expert, who is at the store dailyand mans the wine-tasting bar, where wines are offered both by the glass and bottle.
A wine-tasting bar in a supermarket is not a new concept. Isetan's supermarket in Westgate mall has a wine bar and Isetan Scotts' supermarket has a sake bar. Both have been in operation for several years now.
One of Singapore's largest supermarket chains NTUC FairPrice, which has more than 140 super-and hyper-market outlets in Singapore, has also come up with ways to enhance the shopping experience.
Last year, it launched a new, experiential retail concept at its FairPrice Xtra hypermarket in Jurong Point shopping centre. Shoppers there are periodically treated to performances and there are claw machines in-store.
The revamped store also has a Parenting Zone with an interactive play area for children to engage in imaginative play while their parents shop.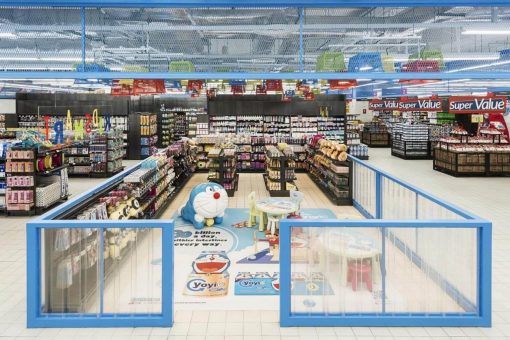 The revamped FairPrice Xtra hypermarket in Jurong Point has a Parenting Zone with an interactive play area for children. PHOTO: NTUC FAIRPRICE

The play area comes with miniature shelves and shopping trolleys for the little ones to mimic a grocery shopping experience, while also learning simple concepts, such as managing a shopping budget and selecting items from a shopping list.
Retail marketing expert Lynda Wee says such initiatives by supermarkets here show that they are evolving with the times.
"With online retail doing order fulfilment, offline retail has to go beyond transaction-only offerings. Offline stores are brand-activation spaces to engage and endear shoppers," says Dr Wee, who runs a consultancy and is also an adjunct associate professor at Nanyang Technological University's Nanyang Business School.
"Supermarkets such as Cold Storage Fusionopolis showcase inventiveness with their fresh retail concepts. By allowing people to come into a supermarket and dine, chill, network or just learn, the store becomes more of a lifestyle hub."
Ms Hong says plans are under way to introduce some of the new initiatives in the Fusionopolis store to other outlets and perhaps even to Market Place by Jasons and Giant supermarkets, also owned by Dairy Farm International Holdings.
SPH Digital News / Copyright © 2018 Singapore Press Holdings Ltd. Co. Regn. No. 198402868E. All rights reserved
Full Article: https://www.straitstimes.com/lifestyle/wine-and-dine-at-the-supermarket