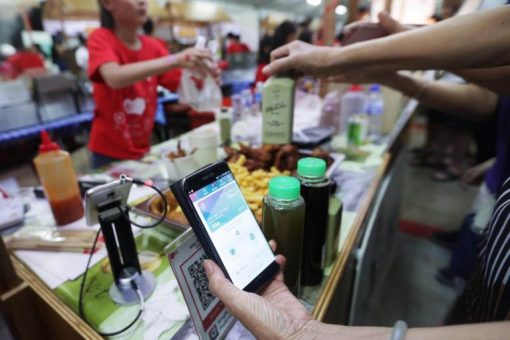 Currently, surcharges do not necessarily deter consumers from cashless options, although some peg this to a lack of equally convenient alternatives. ST PHOTO: KELVIN CHNG
---
Businesses may charge a premium for cashless payments, or opt not to list them
---
---
When law student Goh Jia Jie was booking flight tickets with budget airline Scoot in May, he was surprised to find the fare increasing by $20 when he began keying in his credit card details to complete the Web purchase.
The 26-year-old went ahead with the transaction anyway, finding it too inconvenient to go through additional steps for offline payment.
But his experience, like that of many other consumers who have had to pay surcharges on their cashless payments, left a bitter taste.
"There was little elaboration on the reason for the added charge, and I wondered why this was revealed only at the final stages of booking," he said.
As Singapore marches ahead in its Smart Nation push, The Sunday Times finds that businesses may still charge a premium for cashless payments, or choose not to list them.
Some argue that these moves discourage such payment methods and run counter to the national drive.
Other examples of this: Taxi rides paid by credit cards have a 10 per cent surcharge and cinema operator Golden Village has a $1.50 convenience fee that comes with buying a show ticket online.
Credit card surcharges are also common among budget carriers including Scoot, which charges $20 more for round-trip tickets, and AirAsia, which charges $32 more for a round trip.
THE PRICE OF CONVENIENCE
AIRLINE TICKETS
Some budget carriers, such as Scoot and AirAsia, can charge up to $32 more for a round trip.
Singapore Airlines imposes a credit card surcharge for routes departing from Australia, Belgium, the Netherlands, New Zealand and Britain.
$20 – Credit card surcharge for Scoot round-trip tickets booked online.
---
MOVIE TICKETS
Golden Village charges a $1.50 convenience fee for each remote transaction for shows at its normal cinemas and $2.50 for shows at its Gold Class cinemas.
Shaw Theatres also charges $1.50 per transaction on its online/mobile booking systems.
$1.50 – Credit card surcharge for each remote Golden Village transaction for shows at its traditional cinemas.
---
TAXI RIDES
ComfortDelGro taxis charge a 10 per cent administrative fee for each ride paid for with a credit card.
SMRT Taxis also has a 10 per cent fee, which is waived for Mastercard payments until December next year.
10% – Surcharge for taxi rides paid for with a credit card.
---
Scoot said its payment processing fees "are clearly displayed within the booking flow", and this is to recover the "implementation, processing and merchant costs relating to the acceptance of these payment methods".
Merchants sometimes impose surcharges due to the price of going cashless. For example, card companies take a cut of 1.5 per cent to 3 per cent of sales, noted Association of Small and Medium Enterprises president Kurt Wee.
This takes place despite credit card companies saying that merchants should not impose an added fee for customers paying by credit cards. In 2013, Visa said such additional fees, or imposing a minimum spend for such cards, breach the contract terms between merchants and banks involved.
"Now, merchants label it as an administrative charge," said Mr Wee.
But given that cashless payment allows savings in other areas such as manpower, he added that there is scope for this cost to be reduced.
"I think we're going to continue seeing solutions that will drive costs down for business," he said, citing the new PayNow Corporate as one with such potential.
This extension of peer-to-peer funds transfer service PayNow allows firms to send money to other businesses – by keying in their Unique Entity Number or scanning a QR code – and transact with individual clients. The transfer is instantaneous, reducing time needed to wait for credit card transfers and the processing of cheques or Giro.
Adjunct Associate Professor Lynda Wee of Nanyang Technological University said credit card holders pay annual subscription fees, which can be waived based on spending records. She added: "If merchants were to charge us again, this constitutes double payment."
She noted that cashless options offer other benefits to card companies, such as consumer insights, and surcharges could drive consumers back to using cash instead.
Dr Seshan Ramaswami, associate professor of marketing education at Singapore Management University, said Singapore appears to remain "behind the curve on cashless payment systems". "While (banks here) have worked hard to get adoption of various cashless systems, it appears that businesses are still waiting for some sort of inflexion point in cashless payment adoption by consumers before they expand their own acceptance of various systems," he said.
Currently, surcharges do not necessarily deter consumers from cashless options, although some like Mr Goh peg this to a lack of equally convenient alternatives.
While payment via AXS incurs a lower service fee of $6 per booking for Scoot flights, for example, Scoot said most of its online and mobile bookings are paid with credit cards.
Similarly, even as catering firm Select lists only cash and cheque payment upon delivery as options on its website, its marketing director Eugene Lim revealed that 55 per cent of its customers, in fact, pay by credit card – which it allows as well, despite not advertising it. There remains constraints to the widespread adoption of different cashless systems, said Dr Ramaswami.
These include Visa and Mastercard's transaction fees; retailers who fix a lower limit on transaction amounts before accepting Nets payments; and modes such as Apple Pay still being new to the market.
"It is when many more small retailers and service providers start accepting these payment systems for even small amounts that cashless payment will really take off," Dr Ramaswami said.
SPH Digital News / Copyright © 2018 Singapore Press Holdings Ltd. Co. Regn. No. 198402868E. All rights reserved
Full article: https://www.straitstimes.com/singapore/paying-more-to-go-cash-free