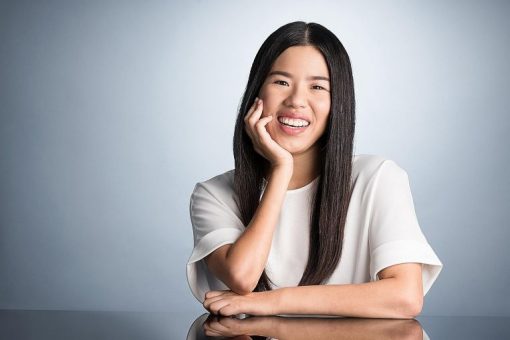 Ms Yip Pin Xiu, who has muscular dystrophy, was chosen because she is an inspiration to many, says a Lancome spokesman. PHOTO: LANCOME
---
Disabled swimmer and NMP Yip Pin Xiu featured in its latest ads
---
Theresa Tan – Senior Social Affairs Correspondent (mailto:theresat@sph.com.sg)
---
Paralympian swimmer Yip Pin Xiu is the latest face of French cosmetics house Lancome, becoming the first person with a disability to be featured in its advertising campaign here.
Marketing experts and charities who work with disabled people say this is the first time they have seen a major beauty company engage a brand ambassador with a disability to front its advertisements here.
Ms Yip, 26, suffers from muscular dystrophy – which causes progressive weakness and loss of muscle mass – and uses a wheelchair.
A spokesman for Lancome told The Straits Times that Ms Yip was chosen because she is an inspiration to many. "Pin Xiu is a natural fit as she is a force to be reckoned with. Her story is phenomenal and, despite all her success, she remains humble, kind-hearted and so positive in anything she embarks on," said the spokesman.
At the age of 16, Ms Yip won Singapore's first gold medal at the Beijing Paralympics in 2008. She now has four Paralympic medals – three gold and one silver.
In September this year, she became the youngest Nominated Member of Parliament (NMP), at the age of 26.
Ms Yip is the face of Lancome's latest Love Your Age campaign to promote its anti-ageing serum Advanced Genifique. The campaign encourages women to love and embrace who they are and to live their lives to the fullest, regardless of their age.
LOOK BEYOND THE DISABILITY
It's rare to see a person with a disability in a beauty ad. However, I think more people are starting to look beyond the disability and truly see someone for who they are… I'm proud of Lancome for being able to do that. – MS YIP PIN XIU, on fronting the Lancome campaign.
The advertisements featuring Ms Yip were rolled out last week. They are placed on online sites and in print.
Although Ms Yip has fronted other advertisements for products such as Milo and Colgate, Lancome is her first beauty endorsement.
Ms Yip told The Straits Times she is very honoured to be chosen as Lancome's latest "muse". "It's rare to see a person with a disability in a beauty ad. However, I think more people are starting to look beyond the disability and truly see someone for who they are," she said.
"I'm proud of Lancome for being able to do that."
In Singapore, television host Anita Kapoor and former NMP Eunice Olsen are among the other faces of the Lancome campaign.
The brand's global ambassadors include actresses Kate Winslet and Penelope Cruz.
Mr Amos Tan, senior lecturer of marketing and retail at Singapore Polytechnic, said: "I can't recall the last time I saw someone like Ms Yip (front a beauty campaign). It's very uncommon for brands in Singapore and Asia to feature someone with a disability."
Associate Professor Ang Swee Hoon of the National University of Singapore Business School said there is still a stigma – or, to a lesser extent, a blemish – associated with disabilities.
"The universal definition (of beauty) is that you must have a perfect face and body and not have any blemish," she said.
"But sentiments have changed as the younger generation tends to define what beauty is in their own way and they are also into pro-social causes, like supporting a Paralympian."
Marketing experts say Ms Yip has made waves in the pool and brands may want to be associated with her success.
Associate Professor Lynda Wee of the Nanyang Business School at the Nanyang Technological University said: "Brands often choose people with aspirational value to add on to their brand equity – one that others look up to. Ms Yip has achieved excellence in her chosen area against all odds. This is highly commendable."
Dr Marissa Lee Medjeral-Mills, executive director of the Disabled People's Association, said some brands have started to use models or spokesmen with disabilities, although this is still quite uncommon.
These brands include Uniqlo, who picked Briton Gordon Reid, the world's top male professional wheelchair tennis player, as its global brand ambassador.
Mr Reid is paralysed from the waist down due to a rare neurological condition that affects the spinal cord. Nike has also chosen Dutch sprinter Marlou van Rhijn, who was born without legs, to front its ads.
"Much of advertising in the beauty community is aspirational, and maybe beauty companies are of the mistaken opinion that persons with disabilities do not fit into their customers' ideas of beauty. Ms Yip is a good example of how wrong that belief is," Dr Medjeral-Mills said.
"What makes the Lancome campaign refreshing is that it focuses on Ms Yip's talent in the water and her beauty inside and outside."
SPH Digital News / Copyright © 2018 Singapore Press Holdings Ltd. Co. Regn. No. 198402868E. All rights reserved
Full article: https://www.straitstimes.com/singapore/paralympian-is-lancomes-new-face 5/5