THE STRAITS TIMES
---
Few willing to take over their parents' sundry, fresh food stalls; experts suggest making them hip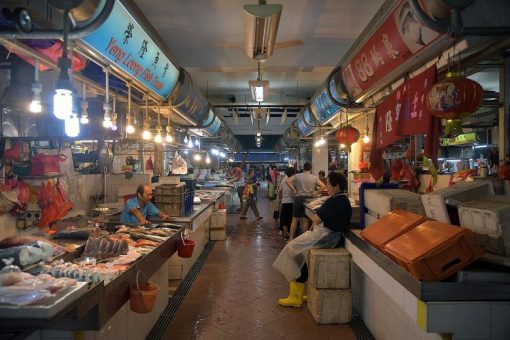 The wet market at 127, Toa Payoh Lorong 1. Data showed that the number of NEA-licensed hawkers selling market produce fell 12.4 per cent to 5,485 last year, from 6,264 in 2006. ST PHOTO: KUA CHEE SIONG
---
Makeover could could turn things around for trade, say experts
---
PUBLISHED NOV 5, 2017, 5:00 AM SGT
Linette Lai Health Correspondent (mailStou:el-inAentnteTl@ansph.co(ma.siglt)o:suetan@sph.com.sg)
---
For nearly half a century, wet market hawker Ong Seng Lip has started work before sunrise.
The 80-year-old is up by 5am every morning to prepare fresh poultry for sale at his stall in Toa Payoh West Market and Food Centre.
Eventually, Mr Ong plans to hand Seng Lip Fresh Chicken and Ducks over to his son, 54-year-old Ong Aik Beng. But among hawkers, he is in the minority.
"Many of the hawkers here have been around for many years," he told The Sunday Times in Mandarin. "But not everyone has children who want to take over."
Indeed, the number of licensed hawkers under the National Environment Agency (NEA) selling market produce, such as fresh meats and vegetables, has fallen over the past decade, going by the latest figures.
Data from the Department of Statistics showed that there were 6,264 NEA-licensed hawkers selling market produce in 2006. Last year, this number fell 12.4 per cent to 5,485.
For NEA-licensed hawkers who sold piece and sundry goods – which include clothing, textiles and toiletries – the figure was 2,497 in 2006, and dipped 3.5 per cent to 2,416 last year.
However, these drops are in contrast with the situation for NEA-licensed hawkers who sell cooked food. In 2006, their numbers stood at 5,585, but rose 6.4 per cent to 5,970 last year.
Business experts said a change of attitudes towards the trade could turn things around for sundry and market-produce hawkers.
Being a next-generation cooked-food hawker is still "cool" in a way that selling fresh food or sundries is not, said Mr Amos Tan, a senior lecturer in Singapore Polytechnic's business school.
He added: "People need to believe in the potential of these old-school shops and make it seem like a fun, exciting platform for the next generation."
So, whether there will be fewer sundry and market-produce hawkers in the future, even as long-time hawkers retire, will depend on whether the trade changes.
Said Ms Esther Ho, who is a deputy director at Nanyang Polytechnic's school of business management: "If the model evolves with value-added services – such as delivery, healthy eating and convenience – there could be some pockets of growth… It all depends on whether these sellers can change the way they deliver services to their customers."
As for why the number of sundry and market-produce hawkers is falling, observers said one reason was greater competition from other choices such as supermarkets or fast-fashion outlets.
Dr Lynda Wee, an adjunct associate professor at the Nanyang Technological University's Nanyang Business School, also said that many people now rarely find time to cook, which means they are less likely to buy raw produce, such as from hawkers.
Dr Teo Ho Pin, coordinating chairman of the People's Action Party town councils and MP for Bukit Panjang, noted that with some hawkers giving up their stalls because of lack of successors, the options available to residents will be reduced.
One customer who enjoys buying produce from traditional markets is housewife Cheo Ah Poh, 61. "The things here are cheaper and I like being able to pick them for myself," she said.
"In supermarkets, a lot of vegetables are sold in packets. Here, I can choose the pretty ones."
Missing out on our exclusive articles?
Get two weeks of free access to The Straits Times and experience the best work from the ST newsroom. No credit card required.
Get 2-Week Free Access
---
Terms & Conditions | Data Protection Policy | Need help? Reach us here. | Advertise with us