THE STRAITS TIMES
---
More Christmas markets this year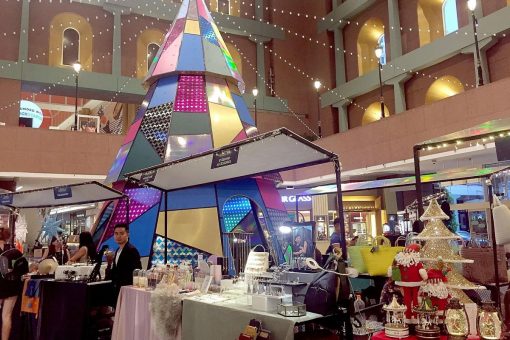 Millenia Walk will feature a different market every week. PHOTO: MILLENIA WALK
---
Christmas markets in Singapore are growing not only in numbers but also in variety, with some focusing on niche areas such as sustainably sourced products or locally made goods
---
PUBLISHED: NOV 24, 2017, 5:00 AM SGT
Benson Ang (mailto:bang@sph.com.sg)
---
Get ready to hang that stocking and order that turkey – it is Christmas season again.
This year, shopping for presents just got easier with Christmas markets offering everything from clothes, gadgets, toys and food.
There are at least 13 Yuletide fairs operating from this month onwards, at locations as far flung as the former Seletar Airbase to nearby places such as your neighbourhood mall.
Experts say they are seeing more Christmas markets here in recent years, with greater interest among well- travelled Singaporeans.
The offerings at local Christmas markets have also become more diverse, as each tries to stand out from the rest. For example, at least four Christmas markets this year are featuring artisanal products or those from local brands or local designers.
A new market this year bills itself as a "sustainable Christmas market", selling products such as carbon- neutral craft beer and unprocessed natural honey.
Despite more markets, experts feel the scene for Christmas markets has yet to hit saturation point.
Dr Michael Chiam, 56, senior lecturer in tourism at Ngee Ann Polytechnic, says: "There are not many Christmas markets in the heartland, but there is no shortage of Singaporeans who love to visit these festive events."
One market to note, he says, is the annual Christmas market at Gardens by the Bay.
He says it has been "relatively successful" in previous years because of its product offerings, themed environment and decor, with some stalls decorated with snow-capped roofs like those in Western countries.
But just because a Christmas market is crowded does not necessarily mean it is doing well, says Ms Raine Chin, 33, who lectures on retail and merchandising at Singapore Polytechnic.
She says: "Footfall does not always translate to sales. There may be customers who visit the Christmas market, only to go home and try to find the same products online."
Whether a market succeeds or not, experts say, largely depends on the selection of goods and prices.
National University of Singapore's Associate Professor Prem Shamdasani, 58, from the department of marketing, says: "The markets need to deliver a unique and memorable Christmas ambience and fun, theme-based activities in addition to offering an exciting range of merchandise and attractive pricing."
Customers look forward to shopping for seasonal and unique goodies that are not available in the usual shops.
Ms Yvette Oh, 35, a senior claims manager, who visited a Christmas market at Westgate mall earlier this week, says: "I hope to see more stalls selling imported products at our local Christmas markets as well as goods which can't be bought at other times of the year.
"Unique performances for the family to enjoy would be great too."
Another way forward is to have Christmas markets that are themed by countries, suggests Adjunct Associate Professor Lynda Wee, 53, from the Nanyang Business School.
She says: "How about a German Christmas market? Or British Christmas market? The organisers can work with the respective embassies.
"It is really up to the organisers' imagination, and the options are endless."
---
HOME-GROWN PRODUCTS
WISH UPON A CITY
This sprawling 10,000 sq ft space in CityLink Mall will host a Christmas bazaar with local vendors selling handicrafts and other items such as luxury silk lingerie, pyjamas and sleepwear from Maison Zhou, as well as scents from fragrance label Scent by Six.
There will also be a crafting area where shoppers can personalise Christmas cards, wrap gifts themselves, decorate gift boxes and more. Where: Christmas Avenue @ City of Tomorrow, B1-47, CityLink Mall, One Raffles Link When: Dec 1 to 30, 11am to 10pm Admission: Free
SUMMERHOUSE FESTIVE MARKET
In its second edition, this market features a curated selection of more than 10 vendors with quirky, eclectic and gift-worthy products. The event is held in The Summerhouse, a colonial bungalow at the former Seletar Airbase.
Food is available from the Wildseed Cafe and Bar on the ground floor. Offerings range from brunch favourites to Christmas cakes and bakes. Where: Wildseed Cafe & Bar, 3 Park LaneWhen: Dec 10, 10am to 4pmAdmission: Free
ETSY MADE LOCAL MARKET
Etsy.com is an online marketplace for handmade and vintage goods and this market is organised by Etsy Craftivist SG, a local Etsy team aiming to build a community of Etsy sellers in Singapore. It is the team's second event after a successful inaugural event last year which attracted crowds of more than 4,000 people over two days.
More than 40 local Etsy retailers will be selling at the market and products range from jewellery, apparel and leather products to paintings, bags and stationery.
Where: Outdoor Plaza, Level 1, Capitol Piazza, 13 Stamford Road When:Tomorrow and Sunday, noon to 9pm Admission: Free
CHRISTMAS FESTIVE MARKET @ TPC
The festive market features handmade products from 20 local crafters and entrepreneurs. They will offer products such as accessories, snacks, cookies, jewellery and clocks.
Among the vendors is Teddy Thotz, a social enterprise which provides jobs to the elderly and underprivileged by teaching them skills to make handcrafted plushies, as well as Benjamin Grace, a home- grown company selling organic skin-care products.
Where: Level B2 atrium, Tanjong Pagar Centre, 7 Wallich Street When: Until Dec 1, 11am to 7pm on weekdays, 11am to 5pm on weekends Admission: Free
---
ENVIRONMENTALLY FRIENDLY
SUSTAINABLE CHRISTMAS MARKET
This market at Mercure Singapore on Stevens will feature 23 booths selling sustainably made and sourced goods.
Expect ethical products, such as carbon-neutral craft beer from beverage distribution company Craft Beverage Supply.
There will also be unprocessed natural honey – obtained by extraction without pasteurisation – and harvested and bottled directly at a bee farm in Thailand.
Apart from the market, there will also be face-painting, balloon sculpturing and belly-dancing for kids.
Where: Mercure Singapore on Stevens, 28 Stevens Road When: Dec 9, 9.30am to 4.30pm Admission: Free
---
OUTDOOR CHRISTMAS MARKETS
THE GREAT CHRISTMAS VILLAGE
The main highlight of the Orchard Road Endless Wonder Christmas On A Great Street campaign this year, this Nordic-inspired Christmas village features a festive market offering tasty treats, yuletide goodies and handmade crafts and gifts, housed in specially designed wooden huts inspired by traditional Nordic architecture.
Beyond the festive market, visitors can also look forward to nightly performances by local musicians and light shows, amusement rides, weekend appearances by Santa Claus and Santarinas at the Hitachi Santa House and Christmas craft workshops and talks.
The event is organised by Sphere Exhibits – the events and exhibition arm of Singapore Press Holdings – and the Orchard Road Business Association.
Where: Civic Plaza, Ngee Ann City, 391 Orchard Road When: Tomorrow until Dec 25; 11am to 10pm (Sundays to Thursdays), 11am to 11pm (Saturdays and Sundays, except on Christmas Eve, when the event will be open until 1am) Admission: Free
FESTIVE MARKET AT CHRISTMAS WONDERLAND 2017
At 57,000 sq m, this year's Christmas Wonderland event is Singapore's largest yuletide fair.
Its market features a collection of 24 specially designed wooden huts imported from Europe and similar to those at renowned Christmas markets in Europe, such as those in London's Hyde Park and Paris' Avenue des Champs-elysees.
Christmas gifts such as handmade jewellery, crafts and home decor are available. At the event, there will also be gourmet cuisine from award-winning restaurants, such as Japanese restaurant Shoukouwa and French restaurant Saint Pierre, and wines from all over the world.
This year, there are also additional stalls at the Mistletoe Alley where visitors can shop for gifts and crafts. They can also build a terrarium, learn about textile printing or create origami Christmas ornaments at free workshops. The market has been held here annually since 2014, and more than 450,000 people visited last year.
Where: Gardens by the Bay, 18 Marina Gardens Drive When: Dec 1 to 26, 4 to 11pm daily Admission: From $4 for online bookings at www.christmaswonderland.sg; from $6 for on-site purchases, additional charges apply for certain attractions
FLASHBANG
Held in an open-air carpark, this psychedelic event comprises a market featuring up to 120 F&B and retail brands, including local labels such as Dressabelle, Megafash and Meykrs, as well as an "interactive playground".
The playground boasts a combination of neon light art installations with music and performances by a host of local DJs, artists and buskers.
There will also be craft workshops by local entrepreneurs and makers on silk screening, leather crafting, body marbling and face painting.
Where: Open-air car park in Grange Road, behind 313@Somerset When: Dec 9 to 30, 3 to 11pm daily (except on Dec 24, when the event runs until 1am) Admission: Free
---
CHRISTMAS MARKETS IN MALLS
THE CLEMENTI CHRISTMAS FAIR
Make merry this season at The Clementi Mall's first Christmas market, which features 14 booths. Shoppers will be treated to a wide variety of festive goodies such as bespoke accessories, ornaments and wooden educational toys, all by local craftsmen and entrepreneurs.
Where: Level 3, Main Atrium, The Clementi Mall, 3155 Commonwealth Avenue West When: Monday to Dec 10, 11am to 9pm Admission: Free
CHRISTMAS BAZAAR AT THE CENTREPOINT
This bazaar features goods from major retailers in The Centrepoint. From Dec 4 to 10, there will be items from department store Metro; from Dec 11 to 17, products from Cold Storage and books and gifts from Times Bookstores and more.
From Dec 18 to 24, there will be Christmas goodies from Choc Spot, toys from Better Toy Store, organic candles and diffusers from BsaB, as well as wine and champagne from Bottles and Bottles.
Where: The Centrepoint, Level 1 Atrium, 176 Orchard Road When: Dec 4 to 24, 10am to 9pm Admission: Free
#PLAYATJCUBE POP-UP MARKET
This market features snacks and artisanal gifts from 20 stalls. For shoppers who spend $80 or more at the mall, they can attend one of eight types of workshops at the market. For example, they can learn to marble leather wallets or paint watercolour flowers. Limited slots are available on a first-come, first-served basis.
Where: JCube, 2 Jurong East Central 1 When: Dec 18 to 24, noon to 9pm Admission: Free
WESTGATE CHRISTMAS MARKET
At Westgate's first Christmas market, shoppers can buy handicrafts, takeaway food items and Christmas
trims.
The 20 booths comprise vendors from social enterprises and Westgate's retailers.
On weekends, shoppers will be treated to live band performances. Also watch out for the virtual Christmas tree, which is Singapore's first video-projection tree in a mall, complemented by special effects of lighting and snow to bring a White Christmas to shoppers.
Where: The Courtyard, Level 1, Westgate, 3 Gateway Drive When: Until Dec 25, 11am to 9pm Admission: Free
MILLENIA WALK WONDROUS WISHES – MARVELLOUS MARKETS
This Christmas, Millenia Walk is bringing in six different markets – a different market every week – by organisers such as Mako Market, The Expat Fair, Free Folk, Togetherly and Soozip.
Each organiser brings a different network of vendors and programmes. For example, Togetherly will bring in a local musician to play live music for both shoppers and vendors.
There will also be weekend workshops for shoppers. For example, The Dark Gallery, a dark chocolate speciality cafe, will hold chocolate appreciation and chocolate truffle decorating workshops.
Some vendors, such as Magically Studios, will teach participants modern calligraphy and watercolour painting.
Where: Level 1, Great Hall Atrium, Millenia Walk, 9 Raffles Boulevard When: Until Dec 25, 11am to 8pm daily Admission: Free
Missing out on our exclusive articles?
Get two weeks of free access to The Straits Times and experience the best work from the ST newsroom. No credit card required.
Get 2-Week Free Access
---
Terms & Conditions | Data Protection Policy | Need help? Reach us here. | Advertise with us